197 | Leadership with Open Empowerment with Ty Crandall
Don't miss an episode. Subscribe to Growth Think Tank.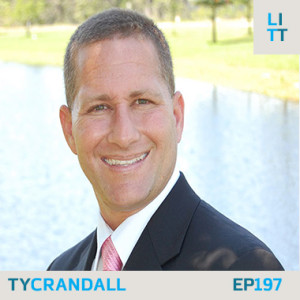 Leadership is that necessary skill that can make or break your company. Leading is ever changing too. Discover the power of "open empowerment" in this episode. Our guest today is Ty Crandall with Credit Suite. Ty is managing thirteen full-time employees with open empowerment so that they show up to work in a new way. Ty also shares insights to business credit that can help you grow your business and reduce your personal risks.
Share the LOVE and TWEET about this episode.

Target Audience: Business (large or small) seeking credit and finance solutions.
Scaling Your Team
Scaling your team is about managing time. What this scene includes is virtual assistants & automation. It can be scary for any entrepreneur to hire. However, Ty can't emphasize enough how important it is. He found that once he offered a good hourly rate and presented the good reputation behind his company, he connected with highly qualified employees.
Transforming Good Employees into Good Leaders…
giving them the ability to expand in their position. act on their suggestions and implement new things handle their roles with open authority they dont need to come to us to as for permission. if a business leader could leave for a vacation and know everything will be great.
This takes a lot of trial and error (+ patience of course!). Being an entrepreneur may sometimes mean you are a control freak. But you have to let go if you want to grow as a business because you have to hire people. That's just a natural progression all entrepreneurs go through. Step back, stop being a control a freak and empower them to lead/manage the power of operation. This will allow you the freedom to work in your business – not on your business.
The level of empowerment you offer your team is a byproduct of your leadership. This is essential for growth and change.
Business Credit
…exists even for small business. Don't get fooled into thinking it's just for big businesses. Be sure that the first thing you do, is get a SFO. The general entrepreneur doesn't know much about business credit. So they end up going to friends family and/or dipping into their own personal credit. BUT you have a choice. Go here for the 4 steps. 
In this episode we'll cover:
Why empowering your team members should be your focus
How release the control freak in you
Transforming employees into leaders
Why automation and scaling gives you freedom
The truth about business credit
Practical and Actionable:
Growing up in your business means outsourcing and hiring a VA. So go and do that even if you think you can't afford it, just at least be open to it. Decide to hold an empowering space for you and your team members. And don't forget to check out Credit Suite HERE. Discover 4 steps to better finance solutions for your business.
Resources and Links
Podcast: Play in new window | Download
Subscribe: Apple Podcasts | Stitcher | https://www.youtube.com/user/leadersinthetrenches
0
0
Gene Hammett
https://genehammett.com/wp-content/uploads/2016/02/Gene-Hammett.png
Gene Hammett
2016-02-14 21:00:17
2018-04-20 19:55:29
197 | Leadership with Open Empowerment with Ty Crandall