038 Luke Charlton | Cultivating REAL Relationships with Intimate Events
Success in business does not require a website or a big marketing budget.  In today's episode, I am talking with Luke Charlton who coaches other coaches on how to focus on relationships.
Specifically, we talk about strategic relationships that can fuel your business to a new level. Luke shares with you tips about small, intimate events that can put you in a room full of the right people for your business.  Even if you are not a coach, you can learn how to fill the room and details on how to make this event truly special.
Share the LOVE and TWEET about this episode.
Luke's Target Audience: Luke's target market is other coaches. He teaches them how to put together and sell a high-end program so they can work with clients for a lot longer and have more stable income.
Luke Charlton is a man who knows about digging out of the trenches. Just twelve months ago, he ditched his full-time 9 to 5 job, left behind his family and friends to move to London. In London, he knew no one, had no connections and no work. He was done with his health and wellness coaching practice and removed that safety net as an option to fall back on.
Instead, he reinvented himself. He became a business coach who helps other coaches create high-end programs. And how did he get started in that niche? By doing it himself. He went from earning $60 an hour to earning $5, $10 and $15k selling programs. He believes you don't need a product, a service or a website to have success. You just need an offer and the right connections to people who will buy your offer.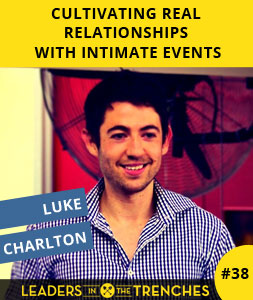 One of the keys to Luke's success over the last twelve months is his willingness to build solid relationships with key people. He's discovered how to genuinely connect to create friendships and he says it is as simple as knowing who to connect with (leaders and organizers of events) and how to connect with them (by treating them as you would a friend or family member).
And Luke has leveraged those relationships to build a client base and to create intimate, intensive events for select members of his client base. He doesn't throw Tony Robbin's type events where you pack a giant room full of thousands of people. Instead, he works with a highly-selected group of 10 to 12 for a day. He also structures the content of the day for maximum value and actionable items for this group. The response is an enthusiastic group of people who absolutely know, like and trust Luke.
In this episode, here's what we'll cover:
Quality or quantity in relationships today: which is most important?
The two reasons he goes to a networking event.
How to position yourself as an expert and a trusted advisor, according to Luke.
How to get the most luxurious space for your event.
Securing your speaker list: how to get the best and brightest.
Creating the content for your guests: actionable and relevant info.
Why cold calling does NOT work.
What does the term tripwire mean?
TWEET THIS:

 "People love to be around things and people with momentum." Luke Charlton

Practical & Actionable (at [31:26]):

On the practical and actionable steps you can take right now, Luke says you don't need a book, a product or a web site. "One of my mentors taught me all you need is to put together an agreement or an offer. Then connect with your target market or people who are connected to your target market and ask them for referrals."
In its simplest terms, what Luke is saying is you need two things:
1. Get an offer.
2. Get on the phone and get into a one on one session with someone so you can get results for your audience as quickly as possible.
RESOURCES AND LINKS MENTIONED IN THIS SESSION INCLUDE:
To give Luke a shout out for being on the show, follow him and send him a message: Luke Charlton. Connect with me on LinkedIn or Twitter at @genehammett and let me know what you liked about the episode!

Do you have questions about today's episode!?!
Did you know that you can apply to chat with me by phone? This is a limited time offer to help anyone that is serious about refining their business as well as developing a clear & compelling strategy that will drive them forward. Complete the questions and our team will follow up with you to schedule time for your "Business Breakthrough Session". These are limited to 30 minutes, completely free and oh, so valuable.  Apply Now!
A QUICK FAVOR
And lastly, please leave a rating and review for the Leaders in the Trenches on iTunes (or Stitcher) – it will help us in many ways, but it also inspires us to keep doing what we are doing here. Thank you in advance!
Right click to download the .mp3.
Podcast: Play in new window | Download
Subscribe: Apple Podcasts | Stitcher | https://www.youtube.com/user/leadersinthetrenches
0
0
Gene Hammett
https://genehammett.com/wp-content/uploads/2016/02/Gene-Hammett.png
Gene Hammett
2014-06-06 01:57:52
2018-04-19 19:18:45
038 Luke Charlton | Cultivating REAL Relationships with Intimate Events