063 Donna Cravotta | Mindset Matters the Most in Your Success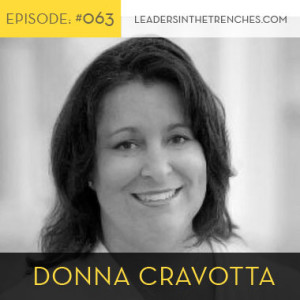 Getting RESULTS is not about luck.  It is about your strategy and execution.  To create the right strategy and execute it with effectiveness, you also have to have the right mindset.  This title says it all, because mindset is what shapes the strategies you believe are possible and the actions you take.
Donna Cravotta is the CEO of Social Sage PR.  Donna shares her journey to success and specifics for your own PR.  The journey "out of the trenches" is not easy sometimes, but it is so worth it.
Share the LOVE and TWEET about this episode.
Donna's Target Audience: Donna's target market is entrepreneurs and small businesses who are just starting or who have had their business for a length of time. She finds it exciting to work with people who are ready to move up a level.
Donna has a background in the corporate world where she worked as a virtual assistant, social media manager and an office assistant. She had great jobs at a few different law firms for 25 years. But as a single parent, she wanted the flexibility to spend time with her child. None of these roles gave her that option; in fact, she was often away from home for 12 hours a day or more. Finally, she decided to quit her job and start her own virtual assistance business.
Now her company, Social Sage PR, handles public relations for her clients with the help of social media; Social Sage PR seeks out great opportunities for her client's companies. For 8 years, her business has helped clients maximize their online exposure with the innovative combination of social media and PR. Currently her team manages around 150 clients.
In this episode, Donna talks about the importance of PR and how it works great when combined with the various social media tools available today. She tells us how PR can help us gain huge audiences who trust us and we become credible sources. She also discusses how the online marketing arena is vast, with all sorts of noise. She explains that by listening before interacting we can cut through the noise to make sure the right people hear us.
Donna shares with us a great tip on how we can pitch our media to journalists who receive tons of emails every day. It's a very handy strategy she uses herself, it's worth listening for!
Additionally, we learn about the importance of building SEO, social media management and PR strategies. She believes in empowering clients through these strategies. You'll even have the chance to listen to some inspiring real world examples of how Donna was successfully able to turn around the business of her clients.
We dive into the ever-popular topic of hashtags, including a special free social media tool that helps you keep track of hashtags. This tool allows you to find and listen to your prospective clients based on search strings. You don't have to be that techy to use a tool like this one!
On the topic of PR, Donna tells us that in many cases you need to hire someone who can do your PR. But there are also situations in which you can manage PR on your own and she explains the difference.
In general when it comes to the media – just like your any other business audience – engagement is the key to building relationships. 
In this episode, here's what we'll cover:
Can good PR really make a difference for your business? Donna weighs in.
The value of listening in the online world.
How Donna was able to generate desirable outcomes for her clients.
Traditional versus innovative business models: which empowered Donna's clients the most?
Building relationships online: Donna shares the specifics on how-to.
How mindset is critical to rising out of the trenches.
The challenges of growth and Donna's insights on the topic.
Practical & Actionable:
Donna says the most practical thing that you can do to manage social media is to use Hootsuite. It is a free tool and she recommends us to sign up for it.
She also directs us to her blog post titled "Listen to your social media" linked in the resources and links section below. From that post you get an idea on how you can use Hootsuite to track and manage keywords, hashtags and Twitter conversations.
RESOURCES AND LINKS MENTIONED IN THIS SESSION INCLUDE:
To give Donna a shout out for being on the show, follow her and send her a message: Donna Cravotta. Connect with me on LinkedIn or Twitter at @genehammett and let me know what you liked about the episode!

Do you have questions about today's episode!?!
Did you know that you can apply to chat with me by phone? This is a limited time offer to help anyone that is serious about refining their business as well as developing a clear & compelling strategy that will drive them forward. Complete the questions and our team will follow up with you to schedule time for your "Business Breakthrough Session". These are limited to 30 minutes, completely free and oh, so valuable.  Apply Now!
A QUICK FAVOR
And lastly, please leave a rating and review for the Leaders in the Trenches on iTunes (or Stitcher) – it will help us in many ways, but it also inspires us to keep doing what we are doing here. Thank you in advance!
Right click to download the .mp3.
Podcast: Play in new window | Download
Subscribe: Apple Podcasts | Stitcher | https://www.youtube.com/user/leadersinthetrenches
0
0
Gene Hammett
https://genehammett.com/wp-content/uploads/2016/02/Gene-Hammett.png
Gene Hammett
2014-08-06 01:57:32
2018-04-20 19:53:35
063 Donna Cravotta | Mindset Matters the Most in Your Success